The Director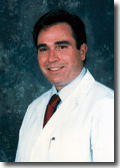 Conrad A. Speece, D.O. is a graduate of the Kansas City College of Osteopathic Medicine, and is board certified in Family Practice. He has over 30 years experience treating neck and back pain without surgery. He has lectured on ligamentous articular strain techniques and other aspects of osteopathy throughout the United States, Canada, Europe, Russia, and Japan.

In addition to his private practice, where he helps train students and residents from the Texas College of Osteopathic Medicine, he serves as Chairman of the Dallas Osteopathic Study Group, an organization dedicated to refining and expanding the osteopathic approach to treating the human body. He is a co-author of the 2001 medical textbook, Ligamentous Articular Strain: Osteopathic Manipulative Techniques for the Body. Dr. Speece is also an inventor who, among other things, developed and patented the BackMaster® Lumbar and Thoracic OMT Devices.
Our Facility
Our clinic in Mesquite, Texas is a state-of-the-art facility. It is located just northeast of I-635 on La Prada Drive with easy access and parking. See our Map page for location and detailed driving directions.